Introduction
This is the diary of my grandfather, George Culpitt, kept by him, in tiny notebooks, in the trenches of the First World War. He served from 1915 to 1919 in the 10th and 13th Battalions of the Royal Welch Fusiliers "The London Welch"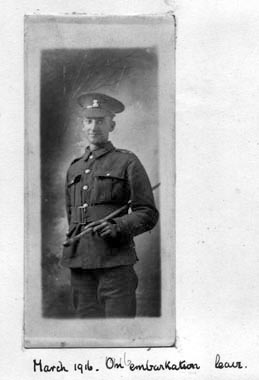 This diary is his story of the Great War. He is 18 years old in the picture on the right, taken as the diary begins in 1916 on embarkation leave before setting off for the Western Front. You can read how his attitude and tone of writing change as you read through the diary. The keen, patriotic teenager on the right changes into a bone tired cynical and rather disaffected veteran by its end in 1918, when he was all of 20 years old.
He was an inveterate hoarder, scrap book keeper and diarist, a fact for which I will be eternally grateful. I have a number of documents of his, diaries, letters and a huge rather splendidly battered scrap book of some of the historical events that took place during his life.
I hope you enjoy it
If you would like to copy to your computer a copy of the whole text (minus the pictures) then follow this link to a file in MS Word .doc format it's 309k in size