A Short Biography
George John Culpitt was born on April 22nd 1897 in Noel Street, Islington in London England the first son of Rachel and George Thomas Culpitt.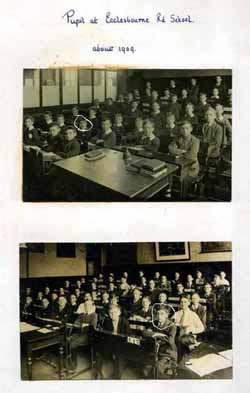 He attended Ecclesbourne Road School and mentions in his diaries that one Empire Day around 1909 his headmaster, in an address to the school, stated
"that Germany was the enemy and that not many years would elapse before we should come to grips"
I dread to think how many of the teenagers in these pictures died in the first world war.
Grandad Culpitt, as he was always referred to, was actually in the crowd outside Buckingham Palace on the night of August 4th 1914 singing along with "God Save the King", "La Marsaillaise" and "God bless the Price of Wales" Its a strange thought to imagine him there at one of the great watersheds of 20th century history.
He joined up as one of Kitcheners volunteer army in December 1915 with the Royal Welch Fusiliers and served right the way through the rest of the Great War. He saw action in the Battle of the Somme, the Battle of the Ancre, the Battle of Arras and the final great push in 1918 that saw the end of the war. It was a miracle he survived. He had two very close shaves, both of which saw him home on wounded leave , during one of which he met and fell in love with my Grandmother Charlotte King. I remember well how emotional she got when, whilst watching "Upstairs Downstairs" one of the characters returned home from the trenches in the blue uniform, given to the wounded during the War.
He ended the war as an anti-aircraft gunner attached to his battalion HQ
He was demobbed from the army in 1919 and returned to his job as a clerk for "The Palmyra Manufacturing Co Ltd. of 36 1/2 Windus Road Stoke Newington.
He and my Great-Grandfather George Thomas Culpitt, decided to set up their own business and in 1921 started G.T. Culpitt & Son Ltd, Wholesale and Export Artificial Florists. The business remained in the family for another 78 years and grew to employ at its peak over 300 people and to turn over over £7 million per anum.
In 1922 he married Charlotte King, my Grandmother. They had two sons, My Uncle Peter who was born in 1926 and my Father David who was born in 1933. During this time they moved to St Albans in Hertfordshire.
As a frequent visitor to Germany in the 1930's on business he became well aware of the rise of the Nazi party and the danger this posed to peace and stability in Europe. After war broke out, convinced that Germany would invade England, he shipped my Grandmother and her two sons to Canada to live with her sister Nell who had emigrated to Canada before the First World War. He stayed at home to mind the business.
They were reunited in 1945 as the war was drawing to a close.
His scrap book for the post war years shows a comfortable domestic life, business dinners, the Rotary Club, celebrating the queens marriage and coronation, holidays overseas, my Dad's national service and the birth of his first grandchild.
As a result of poor health he was forced to take life a bit easier in his later years, and he and my Grandmother became a keen stamp collectors, amassing quite a collection.

He died in April 1962 after a heart attack. Charlotte, lived another 27 years, to 90 years old and saw 2 great-grandchildren. It's her I have to thank for preserving so much and filling my head with stories of the past when I was young.
From the stories I have heard he was a humorous man who liked nothing better than a joke. He had a quick temper and loathed anyone being late. He was very religious, a member his whole life of the Plymouth Brethren, and a strict tee-totaller. He was however a heavy smoker and in later years took up using a cigarette holder, an accessory I still posses, one one which I think gives him a rather raffish and louche air.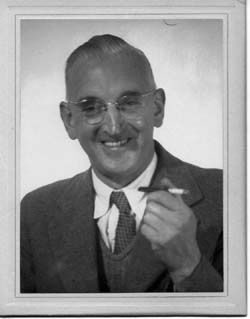 The picture of him on the right was taken in 1962. It was a favourite of all his family this very picture was on my grandmothers bedside table on the day she died and, according to my Dad, captured the nature of him perfectly.