Chapter 3 To the Front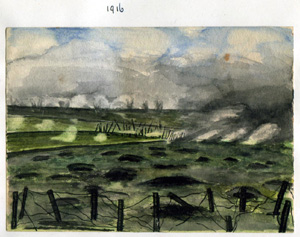 This was our second and last Sunday at the Base for the following Thursday (May 11th) we were warned for the front to join the 10th Battalion Welsh Fusiliers. The next day we had kit inspection etc. and drew 120 rounds of ammunition each. On Saturday morning we were awakened early, reveille being at 2.00 a.m., breakfast at 3.00 a.m. We fell in at 4.00 a.m. for the train, in the pouring rain, and as usual there was a lot of waiting about during which we got slightly wet, but at last we boarded the train and settled down for the journey up the line. Stops were frequent and sometimes lengthy with the result that it was nearly noon before we reached the junction of Hazelbrouck, a French town of medium size. It rained heavily again while we waited about at the station but at length we set out for rest billets in the town as our train did not leave before 7.00 P.m. We reached the billets by 1 o'clock and found them to be a large public building, fairly full of troops, but after some trouble managed to find a small corner where we deposited our packs for the time being while we explored the town, previous to having tea.
The town did not prove very interesting for there was little to be seen in the way of shops and no buildings worth looking at.
Tea over we hung about until 6.30 p.m. when we fell in and made our way to the station and boarded the train for Bailleul, a fair sized town which we reached about 7.45 p.m. Here we were met by the Battalion's Band and our packs taken off us to be carried by transport and soon after we set off with Band playing to join the Battalion in the trenches.
We had not been long on the road before it commenced to rain, putting a damper on our spirits altogether for we were already greatly fatigued by the travelling and still had a long march before us. After we had left Bailleul some three miles in the rear, we got the order to load rifles, and then we felt that our participation in the war had actually begun.
As we marched, on our right could be seen the 'vary lights' rising and falling at irregular intervals marking the line where the two armies faced each other while occasionally a vivid flash denoted the firing of a gun.
We crossed the Border of France and Belgium but the difference was not marked with the exception that some of the signs were written in Dutch although most of the Belgian people still remaining speak French or Flemish. Turning then off the road we crossed numerous muddy fields, slipping on the slimy surface, jumping sundry ditches and dykes, no easy job this in the dark, but at last getting back on the road again. Gradually we got nearer to the line, the lights drew nearer, and the reports of the guns could be heard more plainly. We passed next through a ruined village and after another half hour's marching, turned off the road to halt in an open space between a number of huts having at last reached our destination. After we had secured a place in one of the huts we drew our packs and had some tea which was ready for us and then tried to settle down for the night, with the comforting knowledge that if they shelled heavily we were to go into the Artillery dug-outs which were close at hand.
Still we were tired out and soon fell asleep on the hard floor, sleeping soundly until we were awakened next morning about 8 a.m. After breakfast and a wash in a neighbouring ditch we fell in for a few words from the C.O. and to be allocated to Companies, and I found myself in "A Company" together with 7 other chaps who had left Kimmel Park with me. In a short address the C.O. informed us that they had had a rough time in a gas attack which the Germans had made on them at the end of April when the enemy succeeded in entering the C.T. between the front line and the Bull Ring but were driven out without much effort. We were then dismissed and told to be ready to move up the line that evening. At length 6 oclock drew near and we fell in, but although it was not yet dark it was quite safe to go up in daylight for we were not going to the front line but only to the reserve trenches. We moved off and entered the C.T. which after we had traversed for about half an hour suddenly opened out to a wide space in front of which could be seen piles of sand bags which denoted the trench. This was the second or reserve line and contained a number of dug outs or shelters in which were Company Headquarters, the Dressing Station and such like. We were then taken into the trench proper and given our positions in the trench, and shown various shelters where we could sleep and put out kit. I found myself with two men of the original Battalion and from these I gained a certain amount of moral courage from the fact that one felt they could be relied on in an emergency.
We had not been long in the trench before word was passed down to "Stand To" and perhaps a few words are necessary with regard to this.
As the favourite and most favourable time for attacks is the hours of dusk and dawn, it is usual all along the line for the men to fix bayonets and mount the fire step, keeping a wary eye on the enemy's line in case of an attack.
If it is a quiet part of the line, 'Stand to' is only for an hour morning and evening but if a lively part of the line then 'Stand to' lasts all night and 'Stand down' is given when it is quite light next morning. If it is only a short 'Stand to' then, sentries are posted and these are changed every hour. Of course sentries are always posted during the day and as it is generally too dangerous to put ones head over the top a periscope is used which gives a very good view of no mans land and the German trenches. At night the sentry has to put his head above the parapet taking care to keep perfectly still when a light goes on.
Well, to continue: 'stand to' only lasted just over an hour on this occasion and when it was over we were told off into fatigue parties for such jobs as the fetching of rations from the dump, wire carrying to the front line etc. I was told off with a party for this latter job, and first of all we went to the dump for the wire. then each man had a roll of wire we set out in single file up the C.T. to the front line. Of course this being our first fatigue on active service we did not know the right way to carry it with the result that we succeeded in liberally covering our rifles and ourselves with scratches. Fortunately the weather was dry and the C.T. a fairly good one or we should have been in a worse plight. At length, however, we reached the front line and dumped the wire after which we made our way with all speed back to the Reserve line. It was nearly midnight by this time and as our work for the night was finished we went to, our dugouts and endeavoured to get a few hours sleep, though not without some feelings of uneasiness with regard to the strength of the dugout.
These dugouts or shelters were really large excavations made in the side of the trench covered over with beams and a layer or two of sandbags and although they were in most cases bullet. shrapnel, and bomb proof, one could not guarantee their staying power should even a small shell land anywhere near.
'Stand to' next morning was between 5 and 6 o'clock and for this we had to go down to Company Headquarters and stand with fixed bayonets until the order came to "stand down" about 1 hour later.
Personally I always found this morning stand to very trying especially at first until one got used to it. After the nights work this hour always came as a hardship for one was always so very tired, that very often one fell asleep as one stood, to be rudely awakened by one's knees giving way, or by feeling one's rifle slipping out of one's hand.
Upon the order "stand down" it was customary while in these trenches to issue some tea and rum or sometimes cocoa and after this one tried to get asleep again until breakfast time some two hours later.
Breakfast nearly every morning consisted of bacon, bread and sometimes butter or margarine, and tea.
As this was a quiet part of the line and the reserve a good way back cooking could be done without much risk and we therefore got every meal regularly at least even if not always as hot as it might be. Unfortunately this was always a great difficulty. Keeping the food warm for it was bound to get cold if the cookhouse was a great way from the line, and there is not the least chance of re-warming it when it has been served out, say in the front line, for it was too risky.
The day passed uneventfully save for two or three aerial encounters and the occasional shelling of an enemy plane by one side or the other. These fights of course always caused great interest at first, but as time went on this interest evaporated and little or no notice was taken unless it was something extra special.
That night after 'stand down' a number of us were again warned for the front line, this time to act as a sort of reinforcement during the night. Two of us were told off as listening post, two more as sentries on the gas gong. A Corporal and another man acted as patrol between us and the Suffolks who were on our left. First they and then the Suffolks patrolling every alternate half hour between the two trenches. The remaining man was lookout and sentry in the trench, and this job for the first two hours of the night fell to my lot. I was then relieved for about three quarters of an hour and after another spell on sentry and another break was transferred to the gas gang with another chap and on this post we finished the night out.
Nothing of any consequence took place with the exception that towards the break of clay a few rifle grenades were sent over by Fritz, all of which exploded on the top without doing any damage. At stand down we returned to the Reserve and had our early morning cocoa which was termed 'Gunfire' and then turned in for a couple of hours sleep before breakfast.
During the day we did a few hours trench repairing and relaying of duck boards in a portion of a C.T. that had been blown in. For this job we had to wear 'gum boots' reaching up to the thigh as the trench was between two and three feet deep in water in some places.
After the evening stand to I was again included in a party for the front line, and this time we drew shovels for the job on hand was the construction of a dugout. As the hole was dug in the side of the trench the loose earth was placed in sand bags which were passed a little further up the trench to where a machine gun emplacement was being made. This portion of the trench was very muddy in places, past one's ankles, and this of course made the work much harder. But at midnight we knocked off and returned to the reserve for a rest until stand to in the morning.
The next day we did a small fatigue in the reserve line during which Fritz sent a number of shrapnel shells which did no damage, and received orders to be ready to move up to the front line after stand down to relieve those already there. This we did, and we duly allocated so many to a bay and when this had been done there were four of us over and we went as a covering party and patrol for the night under the charge of a Corporal, who was perhaps the most nervous man in the Company and certainly not fit to be in charge of a job like this.
As it was as yet fairly light we took up our position in the C.T. from the Bull Ring not far from where a new trench was under construction and within a few yards of the bombing post and awaited the coming of the working party which was making the trench and which it was the duty of two of us to act as covering party for. The remaining two men and the Corporal were to act as patrol between us and B Company which was occupying the Bull Ring.
The persistent efforts of an enemy sniper until about an hour after dark kept this patrol from going out, but it was nearly two hours before the corporal could pluck up enough nerve to go out with one of the men and even then did not succeed in reaching his destination. In the meantime, the working party arrived and commenced digging and another fellow and myself should have gone out as covering party, but we were absolutely new to the job and the Corporal would not take us out to our place in front of the trench behind our wire where it was possible to observe the enemy's lines. While we were waiting about in the trench, word came down to get our gas helmets ready as the wind was in Fritzs favour and it was thought likely that he might repeat his attempt of two or three week's ago and try and gas us. Soon after, we heard the gas gongs going further along the line to the right and of course at once got our helmets on and awaited the attack we thought must inevitably follow. It certainly was a lively first night in the front line but after wearing our helmets for about 15 -minutes we got orders to our great relief to take our helmets off as no gas appeared to be coming over and as it transpired later a battalion further along the line had got the wind up and sounded the alarm for no reason at all.
At midnight the working party of RE's stopped work for the night and left us about two hours later. The Corporal and another man had another try to establish communication with B Company and this time they succeeded and came back to report "all's well".
The rest of the night passed uneventfully and just before stand to we returned to the front line. Sentries were posted every hour during the day and worked out about one or two turns a day per man.
The succeeding days of our occupation of the front. line passed without any event of note.
On the second morning we espied in the half light of the dawn, the figure of a German knocking in a stake with a mallet, but although most of us tried to hit him the light was too deceptive and we did not succeed.
At length Saturday evening came along and we were warned to get ready to be relieved during the night by the Suffolks, and we therefore packed out kits and stood by to await their arrival. About 9.00 p.m. the first platoon arrived and passed us on their way to the Bull Ring to relieve B Company, and soon after our relief came along.
Everything was soon taken over, out posts and bombing post relieved and as soon as all were in we made our way in charge of a 1st Lieutenant named McCauley, out of the trenches. He set a very fast pace and we were soon strung out over a very extended line for although we were all anxious to be relieved and get out, it was impossible for some of the lads to keep up. This necessitated one or two temporary stoppages but at length we got on the road for the village of Locre. But we were not right yet, for on reaching a partially ruined village some two miles from home the officer lost his way and took us some 1500 yards down the wrong road, this road being absolutely terrible to walk along, as it was full of sharp stones which as our feet were already very sore, made things worse.
At length he found out his mistake and turned back the way he had come and without a halt made his way back to the village and on to the right road at last. By this time the men were beginning to straggle badly and 1 must admit I felt pretty bad myself but it was a straight road and one could not lose one's way so we all carried on as best we could, arriving by twos and threes at the billets. Here we soon settled down and had something to eat and drink and then to sleep which did not take long, for we were all absolutely tired out.
The next day we did no parades at all so we had ample time to look round the village which, taking it all round, did not turn out so bad.
There were numerous shops and estaminets at which eggs, chips and bread and butter and coffee could be obtained quite cheaply and these were much appreciated by the troops and in great demand. In fact one might almost say this was the principal occupation of the village. There were very few civilian males to be seen and these only old and feeble men, but the women carried on, on all hands.
During the day they could be seen in the fields sowing and ploughing, and at night one could see them busy over the fire cooking eggs etc. for a shop full of eager and hungry tommies. The language difficulty was no obstacle for the average French shopkeeper could always speak sufficient broken English to make a purchase possible.
This was Belgium and we always found things cheaper here then in Northern France and what is more the people were not so inclined to try and 'do' you, as in France.
The Divisional Cinema was also stationed in the village and of course always had a full house in spite of the fact that the pictures shown were not always the latest. At the time Charlie Chaplain Films were the favourite and although I did not go to any of the performances I heard a great deal about them.
We stopped in the village a week while the other two battalions of the Brigade were in the line and during this time did very little parades or drills. We were put into platoons, I was in No. 1 with some 4 other fellows of my draft, and also on one day went through a gas chamber at a specially constructed place some two miles outside the village. This is part of the training in France and is really essential in order to give confidence in the safety of the helmet. The helmet mostly in use at that time (May 1916) was the P.H. consisting of two layers of a kind of flanelette which had been soaked in a special solution which nullified the poison in the gas-as it came through the helmet. Two large eye pieces were provided to see through while an India rubber mouthpiece which only passed air out but would not allow any air to be inhaled through it, answered the purpose of keeping the helmet partially free of foul air. On the whole the helmet answered the purpose for which it was required but at the same time it was very uncomfortable and at first one felt a feeling of suffocation but after a time this wore off although owing to the chemicals one usually had a headache after having worn the helmet for any length of time.
When a week had elapsed the two Battalions in the trenches were relieved by another Brigade and our Brigade prepared to move further back.
On the following morning, I believe it was a Monday, we fell in and formed up in the main street of the village in full marching order, and after the usual delays and mistakes succeeded in getting into the proper order of march, and some half hour later when the relieving battalions had marched in and taken over the billets, we started off on the march to our new resting place which was a number of fame situated between Caestre and Flitre some 10 miles away.
After about an hours marching we entered the town of Bailleul through which we marched with band playing, creating quite a disturbance, the troops billeted in the town all turning out to give us a cheer. After leaving the town behind the march proved more fatiguing than interesting for we got on the main road to Fletre and like most of the roads in Belgium and the borders of Northern France, this was composed of cobble which made marching very unpleasant. At length, however, we passed through Fletre and then our destination was about only a kilometre (1100 yards) down the road. We were billeted in a barn on a farm some 500 yards from the road, straw was plentiful, and we soon made ourselves comfortable in a large loft which held the whole of No. 1 platoon, about 15 men.
At the farm nearby milk and eggs could be obtained cheaply although for anything else one had to go to the nearest village, roughly about a mile away.
I always found this open air life healthy and did not suffer in any way from the fresh air. After a hard day training on an adjacent field one slept the sleep of the just and always awakened fresh and refreshed. A wash in a biscuit tin in water drawn from a neighbouring pond was the first thing to be done and after breakfast preparations made for the morning parade which was booked for perhaps 9.00 a.m. For this we had to clean up just the same as in England, buttons polished, boots dubbined, rifles absolutely clean, etc. and the first thing of the morning's parade was always a rigid inspection by the platoon officer or company commander.
During the morning arm drill extended order drill, and sometimes physical drill were indulged in and the parade finished sometime between 12 and 1 o'clock. Dinner followed and then the rest of the day was usually our own, to do what we liked with as long as we were present at roll call at 8.30 P.M.
In this way a week passed during which I did one 24 hour guard and one night we had to parade at 10 p.m. for gas helmet drill in the dark. The parade did not last long and consisted of marching and doubling with the helmets on.
The most important happening of the week was the order to Stand to in case we were needed and to be ready to move up the line again should we be needed.
This was the first week in June and at that time it may be remembered, the Canadian's lost some trenches at Hooge and so we had to be prepared to assist them if they needed our aid.
At the end of the week orders came for us to move back in the direction of the line and so in order to be nearer in case of need we marched back the way we had come and occupied billets just outside the town of Bailleul. Here we stopped for another week, indulging in a little training but always having our kit packed and ready to move at short notice.
We were allowed into the town which we found interesting from the point of view of the traveller. There was a YMCA and Cinema in the town and on one evening I went to a very good concert given by one of Miss Lena Ashwell's parties. At the same place also we attended one afternoon a Lecture by a French Officer on the defence of Verdun which was very interesting.
English newspapers and periodicals were obtainable in the town and most shops sold cards worked in silk, silk handkerchiefs and such like, souvenirs, although the price of these usually ran fairly high. This was in fact a trade that sprung up entirely out of the war and there was always a large demand chiefly for the silk post cards which could be sent home without interference by the Censor.
When the week at length came to an end we were told much to our relief that we should not be needed, the Canadian's having retaken the greater part of the lost line, and that we could now carry on with our training and re-organisation.
Therefore on Sunday June 11th we commenced a three days march to the Divisional Training Ground where we were to undergo the training necessary to prepare us for the Great Offensive when it should start.
The first day we did about 20 miles, halting for dinner on a field, just outside a village and reached our billets about 5.00 P.M. fairly tired for it was a close day and inclined to rain. On our way we had to pass through the town of Cassell which stood all on its own on the top of a large hill and from the highest point looking down on the winding road it was a fine sight to see the different battalions stretched out at intervals. The hill was a very steep one, too steep in fact for the transports to get up with the result that they had to make a detour which meant considerable delay before rations came up on our arrival at our destination. We were billeted about a kilometre outside the village in a barn full of straw and we had a nice soft resting place for the night. Tea came up about 7.00 p.m. but it was not until 9.00 p.m. that we were turned out of bed to draw rations for the next day.
We were up about 8.00 a.m. next morning and on the road at 10.00 a.m. Daring the night it had commenced to rain and by this time the roads were a mass of puddles and it was still pouring down. This necessitated wearing our waterproof sheets to keep the rain from our shoulders and under these conditions we marched about 8 miles reaching our billets about 2.00 p.m. nearly wet through. It was still raining slightly when we fell in again next morning and I can not say that many of us felt fit for the 12 miles which lay in front of us and which would bring the march to an end, but we managed to stick it and about 4.00 p.m. marched into the village of Eperliques just outside of which our billets lay.
The village consisted of two shops and a Church together with a number of houses so as we were stopping here for an indefinite period the prospect was not encouraging.
The parades started about 8.30 and lasted until one and two o'clock nearly every day we remained here, and were carried out on a big expanse of waste land or that was not under cultivation about 3 miles from the village.
The first couple of days on this ground were occupied chiefly in extended order work by platoons and company's and then the attack was carried out by the Battalion, all Companies acting together. Two more days at this and then the whole 76th Brigade took part in daily attacks over the open country sometimes covering three or four miles in extended order. One day we were reviewed by the Divisional Commander General Haldane who spoke a few words and presented a number of medals and decorations won chiefly at the Bluff and St. Eloi last March.
Another day it rained in the morning but we paraded :In the afternoon and carried out the attack getting back to billets about 11.00 p.m. We had tea after the attack about 9.00 p.m. by an old mill and then marched home.
During our stay here sports were organised by the Officer of the Battalion and were attended by the majority of the Battalion.
On one Sunday, while we were in Eperleques a Roman Catholic procession took place from the one and only Church and proved interesting although it was remarkable the number of women and girls who appeared in mourning which showed the sacrifice France was making for the freedom of Europe.