Chapter 5 Panexio of unknown origin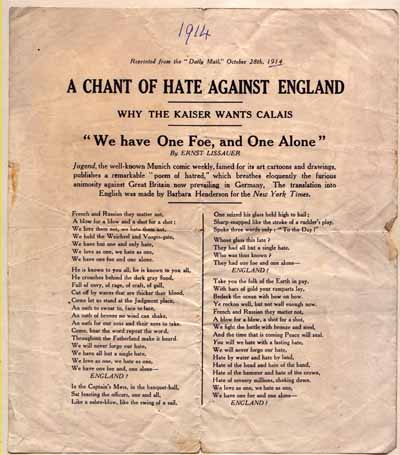 We arrived on Saturday, July 20th and during the first two or three days received a number of drafts from the Base to bring us up to our previous strength. About this time, however, I began to feel unwell, and during the coming week had a great deal of difficulty in getting through the parades. On the Monday while on parade, early in the morning, I came over dizzy and had to go back to billets. The next morning I saw the doctor but he attributed it to the heat that was prevailing at the time and gave me M & D. I managed to get through that day and on the Wednesday we had to go for a bath to a place some 4 miles away.
Reaching this all in a sweat we where very soon stripped and having a bath and this I think put the finishing touches on. With difficulty I got back to billets and next morning went to see the doctor again and this time my temperature being above normal, he gave me some pills and told me to go and lie down and see him next morning. Next morning there was a further increase, in temperature and he therefore thought it best to send me to Field Ambulance. Luckily this was practically next door and after waiting for about 2 hours we were taken in a Motor Ambulance to the Clearing Station at Corby. Here I had some dinner and about 2 o'clock p.m. saw the doctor and he finding I had a temperature of 102, made me a stretcher case. About 4.30 p.m. we left the clearing station, for the hospital barge that was waiting at the riverside and after a short journey were taken on board and down to the ward. Three of these barges constituted the concern drawn by a tug boat and really this was quite a good way of taking the serious cases down for there was very little jolting and then only when we stopped when the rear barge ran into the one in front but this did not very often occur. The inside was fitted up completely as a ward, lighted by electric light at night and with everything complete.
The journey lasted about 24 hours as we stayed the night at Arrniuns continuing our journey next morning at Abbeville. Here We were taken off the boat and after a ride in motor ambulance found ourselves at the No. 1 South African General Hospital. Like most of the Hospitals in France the wards were made of large marquees with some 30 beds in each.
From, the ambulance I was taken to a ward and put in bed and for the first five days lived on milk alone until they had got my temperature down. I was marked as having Panexio of unknown origin and this is really that something is wrong with one but they can not tell what it may develop into anything. Consequently at one time they thought I was going to have typhoid but luckily this did not come off. On about the 15th day I got up although fairly weak and they said I had had influenza. Two days afterwards I was marked for Convalescent Camp, and was transferred by Ambulance and train to No. 5 Convalescent camp Cayeux. which proved to be undoubtedly the best of its kind in France.
The camp, composed of rows of tents was situated behind a thick belt of trees about 1000 yards from the sea shore, and some two miles from the town of Cayeux. The air from such a place was very fine and bracing and we were not asked to do any even light fatigues, for the first week, and then it was only such as putting up tents etc.
were allowed out of the Camp after 5 o'clock on week days and after 2 p.m. on Sundays and by getting a pass could go to the seaside resort of Cayeux. All along the coast were some very fine stretches of sand and as the weather was very fine I had a most enjoyable time. I stayed here for just on three weeks and during this time regained my full health and strength. There was nearly always something to arouse one selves concerts every other night, lectures and sports and so we passed the time.
At the end of three weeks we were marked out and after seeing the Colonel we were taken by motor to the station and entrained for the Base. As it happened there were three or four Welsh Fusiliers and so we all went together to Rouen, our Base having been shifted from Etaples sore months previously. The journey was a long- one as usual but at last we arrived at the Station and set out on the 2 mile walk to the Camp which lay at the back of Rouen. This we reached at length and. were directed to our own Depot where we found much the same state prevailing as at Etaples. After reporting to the orderly room, we were put in tents about 7 in each and told to fall in next morning for Kit inspection.
On about the third day we started going to the training ground, setting off about 8.15 and arriving in time to start work at nine. Those who had been wounded or come down sick from the line were classed as casuals, and did not train with the new recruits from England. The work was usually divided into three lots each morning, such as bayonet fighting, bombing and company drill and took about 1 hour, 1½ hours each. The ground was very sandy although much flatter than Etaples, while it was surrounded by a very fine and large forest on three sides and therefore work was much easier but 1 am afraid us casuals did not take to this training and on the whole were glad when having attended four parades we went through a gas chamber and were then passed out as trained men. Next day therefore we went for a route march instead of drilling on the parade ground and were glad of the change. We went through the forest the whole time and it proved to be a very fine and extensive place. We returned to the parade ground about 12.30 and then back to Camp.
The same night we were warned for the line and next morning at 8.30 saw the doctor and later on in the mo were inspected by the C.O. After dinner we fell in, 12 in all, 6 for the 10th Battalion and 6 for the 9th Battalion R.W.F.
We made our way down to the station and after a short wait boarded the train for the Divisional Rail head from which we were to go to the Battalion. By making enquiries on the way up we ascertained that our destination was Bethune as our Battalion was lying at Mazingarbe, some 7 miles away. The journey at last came to an end, and we were very pleased to find that a couple of limbers had been sent to meet us. We therefore went in these to Neux les Minis and after a short wait there on to Mazingarbe. The district round here was a busy one, On every Land could be seen, great slag heaps from the many Collieries which were still working although so near the lines. It was about 8 p.m. before we finally reached Battalion Headquarters and were directed to our various Companies, most of us electing to go back to the same as before. Therefore I returned to 'A' Company, and was put in the same platoon as some of our draft, this time going to No. 3.
The battalion was billeted in huts just outside the village lining the road to the trenches at Loos, and there were about 30 in each hut. I soon got settled down and managed to stay off parade next day. The following day, however, September 25th 1916, (the anniversary of the battle of Loos) we were inspected by the Divisional Commander during the morning. These inspections were always a nuisance as there was so much waiting about before anyone came along and then they just walked down the lines, said perhaps a few words to one or two men and then after taking the salute and march past the job was finished. What was lacked in colour was made up in impressiveness and it was a very fine sight to see a battalion or Brigade at a review, although it was always so very trying for the men. Two days after this the other two Battalions were relieved out of the line and next day, early in the morning, we left the billets once more on a long trek to a place for rest and training.
The first day proved the worst for those Battalions which had just been relieved and it was a common sight to see a man stagger out of the ranks to collapse in a heap on the side of the road and fall asleep. It was really too much to expect of men who had been in the line for 12 days at a stretch. We did not do long marches at a time, 10 or 12 miles was enough and with an occasional day's rest we at lest reached our destination, the village of Lietre, with Brigade Headquarters at some 2 kilometres away.