Chapter 13 Back In England
My period in hospital was comparatively short - nine weeks only - but nevertheless a very happy time. I had first of all a week at the Berrington War Hospital near Shrewsbury and was afterwards transferred to Churchstake VAP Hospital, where I spent nine weeks after which I returned to Shrewsbury for a few days before being discharged on furlough. I arrived home on my sick leave on the 13th July 1917 the first time for 15 months - and spent a busy 10 days visiting and the rest. On the 23rd, I left Euston for Lime Street, Liverpool to report back at the Depot at Litherland.
I got to the station by just after 7 and by train to the Camp about 8.10 p.m. The next day we had a purely superficial examination by the M.O. (who was very deaf) and was passed A-3.
After settling down at a cost initially of 30/- (which I had stolen on my 2nd day in Camp) things were very quiet. Every evening I went into the City to see how things looked, and also to make a change. As it was summer one had a very pleasant time.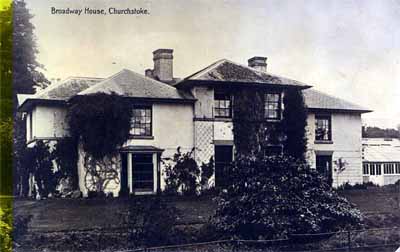 On the 8th August I was warned for a Range Finding Class which was very acceptable as it meant that we should not have to do any ordinary parades. After a three week's course I passed lst Class. Two day's afterwards - on a Monday - I went to Derby as an escort for a prisoner who was going into the Army prison for a period of months. On the way back the sergeant and I stayed at his house for the night. On getting. back at 3 O'clock on the Monday, we were Immediately warned for draft leave for France, and after some hours of waiting we finally were given 10/- (as pay) and a half fare voucher to London which would have cost me 16/-. Q. How to pay a 16/- fare with 10/- and a few pence? This is how they treat the people who are fighting. Well, my friend Masters came to my rescue, and advanced the necessary money and together we journeyed to London on draft leave of 6 days.
These days passed as a flash - 6 short days and once more to face death, perhaps the last forever. Yet one did not feel afraid, just wondering. The future seemed an uncertain blank without hope.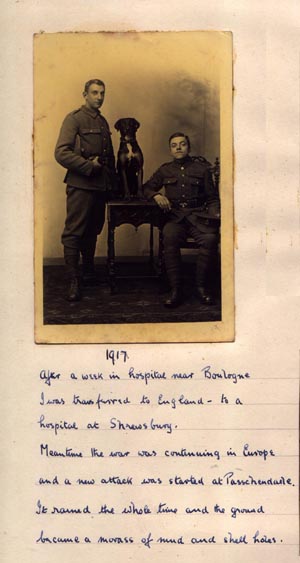 On our return to Litherland we were soon busy with preparations for our going forth.
The parade to leave the camp was a much different one to the previous occasion, 16 months ago, when we left Kimmel (Kinmel) Park - then we did not know to what we were going and the natural curiosity was uppermost and excitement intense but now we no longer saw as though a glass darkly, but the horrors and dangers were present always. The draft was a brief one, and made a fine sight on the square - some 400 men outwardly happy - singing and shouting, but the noise only hiding the pangs within 'Company - shun!! Form fours. Right, Left wheel quick march' and so off in two sections to Seaforth station, Liverpool en route for the South Coast.
We changed at Boothe to the special train which was waiting to take us straight through via Oxford and Basingstoke to Southampton arriving about 8 a.m. on September 8th, 1917.
'We marched then to the rest camp behind the town passing, in the dock the Acquitania.
Here we were under Canvas 10 in a tent and as we drew blankets after breakfast it became apparent that we might possibly stay the night. A reprieve for one day - another day in old England. Later this became a certainty for about 5 p.m. we were told we might go into the town. Taking advantage of this we visited Southampton which proved a very interesting place - clean and very well laid out. The next day Sunday was a very busy one, for we had to get ready to parade at 1.45, ready to sail.
The predominant spirit was one of resignation to fate and hope of an early return through being wounded, while we felt it also in the past that we had to return to the hard life, mud, danger, temptations and suchlike, exaggerated by its being removed from any softening influence whatever. For myself I felt that only God's will could be done, any attempt on my own part to take things in my own hands must end in failure.
About 6 p.m. we boarded the troop ship Mona's Queen and after a 2 hour wait until dusk, set off through the Solent to France. While it was light the journey was interesting but as darkness closed in and the lights of our native band faded in the distance, our minds and hearts became shadowed with much sadness.