Chapter 20 The Final Offensive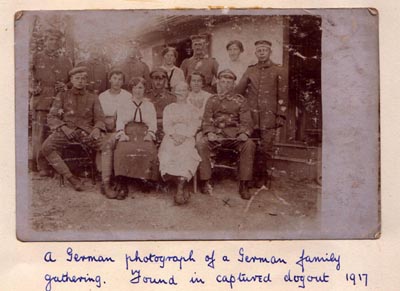 On the 6th at 9.00 a.m., we moved off for Forceville. En. route it poured with rain and on arrival we made what shelter we could under bivouac. After a pouring day, we moved off,at 8.10 for the, trenches, Battalion H2 last by way of Engle Belmer and Headquarters at Mesnil. As it afterwards turned out these were comparatively our last moves prior to the final onslaught which led to victory. After a quiet day, in the line on the 7th the morning of the 8th saw the commencement of a combined Franco British American attack at Monteddier, on our right, which reported gains as being highly satisfactory. but the private soldier was concerned only with his immediate surrounding and we were for the moment holding the line. On the 10th we moved to a sunken road behind Aveluy Wood and at 4 a.m. (dawn) on the llth we had to take our Lewis guns into the wood to wait for a Boche plane which did not come. However we were enabled to see the wood at close quarters. Composed of thick undergrowth chiefly, it must have proved very difficult to correctly judge, the strength of the defenders.
At 11.30pm on the 12th we were relieved by some American troops and went back to Faceville.
August 13.th and 14th passed uneventfully but a feeling was in the air that big things were about to happen. Our ordinary parade at 6.30 a.m. on August 15th was cancelled and we got orders to pack F.O. which we did. Then we stood by all day and towards evening the excitement cooled down. The cause of this excitement seems to have been that last nights patrols were sent out to get in touch with the enemy and if he had retired to the next ridge, we should have gone up to occupy the ground. However, he had not, so we stopped where we were. The next few davs passed without any event of importance and we carried on our usual duties of mounting our guns at various points.
On August 22nd we got orders to pack up and be ready to take our part in a stunt which had started this morning. The final move forward had started on our front, although we did not realise it.
After waiting, we moved off at 9.00 a.m. finally stopping at a shrubbery on a bank to the right of Bouzincourt. Here we stayed until 1 a.m. when we again moved up this time through Albert, shelled, and machine gunned. Even as we went through an occasional shell would burst with a crack nearly followed by the sound of falling bricks, or a burst of machine gun fire would sweep the street so that we had to flatten ourselves up against the wall of a house or lie in the road. Star shells put up by the enemy lit up the rains of this much fought over town through which we passed on our way to our battle positions for next morning. It right be well here to describe the position as we understood it at the time. Fritz who for so long had held Albert had lately been driven out and now held a line across the river commanding the bridge and the streets leading down to the bridge. Our job was to get across silently and deploy on the other side of the river to await the zero hour. This tricky job we did and dawn saw us lying in no mans land with the Germans entrenched in front and the swollen Ancre flowing behind us. A veretable death trap if our attack failed. At 4.40 on August 23rd we attacked. The fire of all arms was heavy. From my position with Battalion Headquarters, at the moment stationary, we could see the boys advancing up the slope and disappearing over the top and out of sight. Heavy shells fell in our vicinity, one bursting outside the first aid post and wiping out those early wounded cases awaiting treatment. Still good progress was reported as from 1500-200 yards and at 6.30 HQ moved forward about 600 yards the other side of the Amere.
here we stayed all the afternoon and evening except for a fatigue carrying. ammunition from. the village, during which we got shelled and had to run across the ground between the shells two at a time with the ammunition boxes. However all went well and about 6.00 p.m. the 115 Brigade prepared to go through us. At 9.00 p.m. we were on ration fatigue first to A Company and then to B Company.
A Company we found in trenches but B Company had only part trenches and the rest shell holes.
At 1.O0 a.m. on August 24th the 115 Brigade went over with only slight shelling by our guns to which Fritz replied with heavy shell fire which fell in our vicinity even on our trench but luckily with very little damage. This lasted about 2 hours. Fritz also shelled us heavily at intervals throughout the morning. During which we dug in for cover as hard as we could go. But no sooner did one feel safe than orders came to move first at 4.00 p.m., then at 7.00 p.m. and then at 8.00 p.m. but each time such a short distance that we only had to dig in all over again. This kept us employed if nothing also and kept alive the hope and that we might get a nights rest in our place, but it was not to be. At 9.00 p.m. came another order to move and we got out on the Albert Bapaume road. Going was slow and we had a trying time ,with Jerry dropping bombs further in front. Things looked unhealthy as we saw the spurts of flame on the road along which we had to go but we got through and finally entered a system of deep trenches with dugouts.
Here we drew rations and began to make ourselves comfortable for the night but again came the order to move and another position was taken some 700 yards forward in readiness for the attack which recommenced . At 2.30am the barrage appeared chiefly on our right and we commenced to move forward slowly, with many halts for about l 1/2 kilos. Finally halting in a field until 12.30a.m. on august 26th when we moved up again for attack at dawn.
The, going as heavy as it, had been raining and we were heavily, shelled on the way up, but we got to our position in good time and dug ourselves in as well as possible. The barrage started at 4.00a.m and our boys followed it up with very few casualties. One noticeable feature of this constant advance is that the aeroplanes dropped boxes of ammunition attached to parachutes which on reaching the ground were picked up by Headquarters in the neighbood and distributed out to the men.
We had now reached the outskirts of Mauctz Wood the scene of bitter fighting in 1916, when it was captured by the Welsh troops of the 38th Division. This time it had fallen easily into our hands but it was by no means so formidable being only undergrowth. Here we stayed for some time and at 1.50 p.m. we again moved forward but aftergoing about 1000 yards and getting one man killed we went back again.